This event is part of IN4ACT Webinar Series for researchers, organized by ERA Chair project Industry 4.0 impact on management practices and economics (IN4ACT). Presenter: Dr. Andrius Grybauskas, IN4ACT Researcher.
Date: Thursday, December 9, 2021
Time: 1 pm.
Location: Online, hosted on Zoom. Event access information will be provided all registered attendees 24 hours, and 1 hour, prior to the event start.
ABOUT THE SPEAKER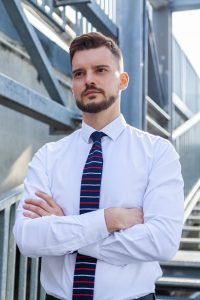 Andrius Grybauskas is a Researcher at European Commission ERA Chair team, IN4ACT at the School of Economics and Business in Kaunas University of Technology.
He received undergraduate degree in economics and finance, graduate degree in International Trade and Economics and a Ph.D. in Economics at Kaunas University of Technology. Andrius research themes mostly revolves around the real estate market and its stability, housing bubbles, econometrics, Big Data, REITs, machine learning, forecasting, Industry 4.0 and artificial intelligence.
Andrius has participated in many technical and econometrical conferences and seminars held around the world and in central banks, won several Lithuanian research council projects and was nominated for his scientific achievements by Lithuanian research council.
ABOUT THE PRESENTATION
With the current rise of artificial intelligence, automated driving, computer vision, cognitive robotics many have begun to fear that human labor might be obsolete and completely substituted with new intelligent machinery.
The fears mostly come from the fact that robots today automate not only the repetitive motions but are beginning to enter the human creativity domain.
Within this context, Dr. A. Grybauskas shall discuss the historical examples of previous cases where fear of automation was overestimated, will touch upon technological unemployment, and will deliver the current economists' insights on this matter.
The webinar is beneficial for researchers and government bodies who are responsible for labor market decisions and education, as well as for anyone who is concerned about the future of their career.
ABOUT THIS SERIES
This event is part of a IN4ACT Webinar Series, organized by ERA Chair project "Industry 4.0 impact on management practices and economics" (IN4ACT). Find out more about upcoming webinars HERE.
The events will be hosted on Zoom.
For inquires about this event, please contact: in4act@ktu.lt