This event is part of IN4ACT Webinar Series for researchers, organized by ERA Chair project Industry 4.0 impact on management practices and economics (IN4ACT). Presenter: Barış Tan, Ph.D., Professor of Operations Management and Industrial Engineering at Koç University, Istanbul, Turkey.
📆 Date: JUNE 17th, FRIDAY, 2022
⏰ Time: 12:00 PM (EEST+3)
📺 Location: Online, hosted on Zoom. Event access information will be provided all registered attendees 24 hours, and 1 hour, prior to the event start.
👉👉 REGISTRATION
ABOUT THE SPEAKER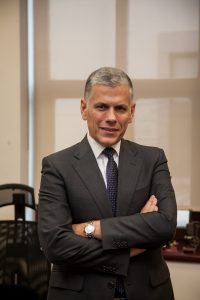 Barış Tan is a Professor of Operations Management and Industrial Engineering at Koç University, Istanbul, Turkey.
His areas of expertise are in design and control of production systems, supply chain management, stochastic modelling, and business model innovation. Barış Tan is the recipient of Turkish Academy of Sciences Distinguished Young Scholar Award, TUBITAK fellowship, NATO Science Fellowship, and best paper awards for his publications. He is the manufacturing area editor Flexible Services and Manufacturing and an associate editor of IISE Transactions.
He received a BS degree in Electrical&Electronics Engineering from Bogazici University, and ME in Industrial and Systems Engineering, MSE in Manufacturing Systems, and PhD in Operations Research from the University of Florida.
He held visiting positions at Harvard University – Division of Engineering and Applied Sciences, MIT – Operations Research Center, MIT – Laboratory for Manufacturing and Productivity, University of Cambridge – Judge Business School, University College London – School of Management, and Politecnico di Milano – Manufacturing and Production Systems. He recently joined the IN4ACT Project at KTU as a Senior Research Fellow.
ABOUT THE PRESENTATION
Designing and operating manufacturing systems that can meet orders in a short time with a high throughput, a high service level, lower inventory levels and utilize material and energy resources efficiently is the key for competitiveness for industrial firms.
With the recent technological developments, Industry 4.0 allows collecting more data from manufacturing systems in an easier way and control them in real time.
This talk will introduce the recent research of Dr. Tan that is aimed at creating value for manufacturers through developing data-driven performance evaluation and control methods, cooperative networks and business models.